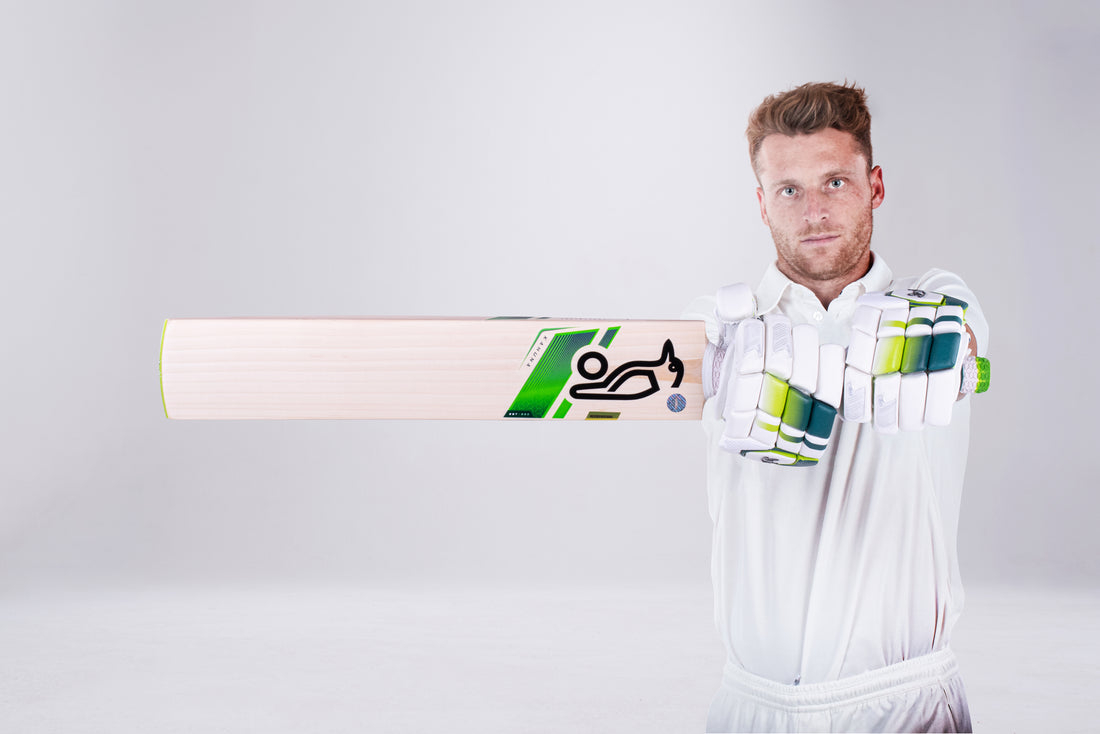 Kookaburra is the undisputed hottest brand in cricket right now and the biggest seller in our store. For the 2023 season they have some new names, returning favourites and a great selection of product for all ages and abilities.
Bats
Always the exciting bit! This season we will be stocking Kookaburra's popular Kahuna and Rapid ranges alongside their brand new Vapor and Aura bats.
The Kahuna is the mainstay of the Kookaburra range, their flagship product line used and endorsed by England white ball captain, Joss Butler. It's a real power performer for the dynamic stroke player with a mid swell for an all round balance between front and back foot strokes and a pick up that is surprisingly smooth given its big edges and power profile.
The Rapid was new last season and became an overnight sensation in our store! This is the lightest bat in the Kookaburra range, following the Kahuna shape and characteristics but with a slimmer profile. Used by England's Nat Sciver-Brunt, the Rapid is a great choice for younger players developing their game, female cricketers of all ages or wristy strokeplayers.
New for 2023 are Vapor and Aura. With eye-catching looks and a nice selection of models these will certainly gain some admirers this year.
Kookaburra describe the Vapor as a "classical" style ideal for "360deg stroke play". Again the cue is taken from Kahuna with the swell placement but there is more of a bowed profile to the bat giving it a lightweight pick up.
Aura is identical to Vapor in terms of edge thickness, bow profile, spine height etc but has a lower sweet spot to benefit front foot play, driving and hitting over the top. Bound to be a hit with anyone with an aggressive front foot style!
Protection
Kookaburra continue to deliver incredible value for money with their protection range. A very comprehensive choice of pads and gloves starts from a low entry price point for juniors and recreational players (Kahuna 6.1, incredible value for money), the Beast 5.1 pads and gloves are a real stand out for youth and adult players at a general level, then one level up the Rapid 4.1 raises the bar for protection, comfort and material quality. 
Last year's winning range of thigh pads, led by the Pro Guard 250, are back and this year we'll have Kookaburra arm guards too. The Pro 600f helmet is a solid performer at a great price.
Footwear
The new KC 1.0 spike shoe is an absolute beauty and sure to be a bit hit. A super cushioned EVA midsole sits above the 9 spike hybrid outsole and below a durable PVC upper. This one feels as good on the foot as it looks on the shelf.
For those on a lower budget the top performing KC 3.0 spikes and rubbers are back with a Kahuna green trim this year.
Bags
We've selected the d4500 and d5500 duffle bags this year alongside the 9500, 4500 and Pro 3500 wheelie bags. Kookaburra bags really are feature packed and great value as well as easy on the eye!
So when can you get it?
Pretty much now! At the time of writing we've had a good chunk of our stock with more to come over the next couple of weeks or so. Don't hang about though, Kookaburra was our fastest selling brand last year so while we have more stock this time around it is sure to be heavily in demand!
You can see our full Kookaburra cricket collection here.